Sliding glass wall
With a sliding glass wall, you benefit from your terrace and balcony all year round. The sliding glass wall is the perfect solution even in bad weather and is also used as wind and weather protection. Your terrace is completely closed and you can enjoy an unobstructed view of your garden. Our clamping technology makes glass processing superfluous and assembly easier.
read more
Sliding glass wall - added value for the terrace and balcony
With a sliding glass wall, you can use your terrace, balcony or pergola not only during the summer months but all year round. The sliding glass wall is the perfect solution even in bad weather and can also be used as a windscreen. Your terrace is completely closed and you can enjoy an unobstructed view of your garden. Thanks to our clamping technology, glass processing is unnecessary and mounting is therefore considerably easier. The partition wall is also available as a stacking wall or as a foldable sliding wall.
Thanks to accessories such as partition posts, the partition walls can also be used on the go, for example as room dividers. Protect yourself and the glass with suitable glazing seals and prevent drafts on your terrace. Our glass clamping technology uses U-profiles and glass clamping profiles made of aluminum, which visually adapt to your balcony and terrace.
The advantages of sliding glass walls at a glance:
All year-round usability of the terrace, balcony, pergola, etc.
Practical protection against wind, rain and insects
Optimal view through use of glass
Different design variants for maximum flexibility
Simple mounting due to clamping technology and easy handling
Also suitable as a room divider
Glass creates brightness and transparency
If you want to divide large spaces, you sometimes have to deal with the problem that the new spaces are dark, because there are no windows with direct daylight entry. These problems disappear if the seperation used is transparent. You can even arrange interior areas with glass walls to be bright and friendly. In addition, the glass room dividers ensure that office and living rooms look spacious.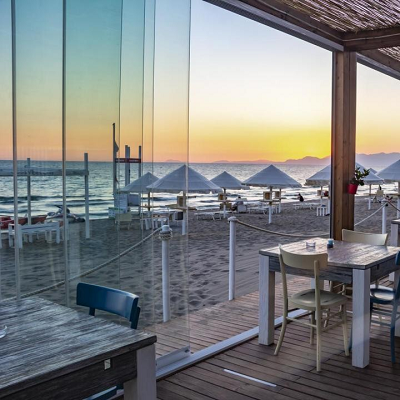 What Types of Glass Partition Walls Are There?
There are different types of glass partition walls available to make year-round use of your patio, pergola, or balcony. The most common types include:
Glass sliding walls: They allow for easy opening and closing, provide protection against wind and weather, and maintain an unobstructed view of your garden.
Stacking walls: This space-saving option can be easily stacked and is suitable for smaller spaces or as a flexible partition wall.
Folding sliding walls: They are highly flexible and can be opened fully or partially to customize the space.
Regardless of the type, all glass partition walls have the advantages of being translucent, eliminating the need for glass processing through clamping technology, and facilitating installation. This allows you to enjoy your outdoor area regardless of the weather.
Stacking Wall
A stacking wall is a glass sliding wall system suitable for balconies, terraces, and verandas. The individual panels run on high-quality vertical rollers with a plastic coating, requiring minimal maintenance. When in the open position, the panels are stacked to the side. Since the system does not require a bottom track, maximum freedom of movement is guaranteed. The first panel opens as a hinged panel into the stacking space, while all other panels are individually slid into the stacking space.
Foldable glass slidingwall
The individual panels of the sliding glass wall form a continuous, transparent surface without any side frames. When open, the panels are parked to the side. A recessed floor guide is provided to guarantee maximum freedom of movement. The clamping technology makes glass processing unnecessary.
Folding sliding door
The individual panels are connected to each other with hinges and thus enable the name-giving effect. When opening, the individual door elements fold together. The fixed side panel can be used as an independent passage without opening the entire wall.
More types of glass partitions
Glass partition walls are also available in many other designs, each tailored to a specific function:
Soundproof wall, for example for the office
Glass shower screens
Glass patio wall, perfect for outdoor use
Staircase glazing, also for fall protection
Glass walls for the living area and kitchen
Privacy screens made of frosted glass
Sliding glass walls
Glass partition wall with revolving door or sliding door
Innovative Klemmtechnik
Mit einer Glasschiebewand können Sie Ihren Außenbereich ganzjährig nutzen. Eine Besonderheit dieser Lösung ist die Klemmtechnik, die die Glasbearbeitung überflüssig macht und die Montage erheblich vereinfacht. Die Klemmtechnik besteht aus speziellen Halterungen, die das Glas sicher und stabil fixieren, ohne dass es bearbeitet oder geschliffen werden muss. So entstehen keine zusätzlichen Kosten und die Installation geht schnell und unkompliziert vonstatten. Glasschiebewände sind zudem für verschiedene Einsatzbereiche geeignet, wie z.B. als Windschutz oder für den rahmenlosen Verschluss von Terrassen, Pergolen und Balkonen. Ob als stapelbare oder faltbare Variante, die Glasschiebewände bieten Ihnen stets eine freie Sicht auf Ihren Garten und schützen gleichzeitig vor schlechtem Wetter.
Which glass is used?
A sliding glass wall is usually used with single-panel safety glass (ESG) or laminated safety glass (VSG).
Single panel safety glass
Thoughened safety glass is heat treated, which creates a strong internal stress. This increases the shock and impact resistance compared to normal flat glass. If the toughened safety glass shatters, it breaks into small cubes, which reduces the risk of cuts or bumps.
Laminated safety glass
Laminated safety glass is a combination of two or more flat glass panels, which are connected by a tear-resistant and elastic film. It has several security features compared to a simple flat glass panel and is also significantly more sound absorbing. In the case of breakage the laminated safety glass binds the splinters and thus significantly reduces the risk of injury. Laminated safety glass is used for burglary protection, as a windshield, for overhead glazing such as awnings, but also as a partition wall and glass door.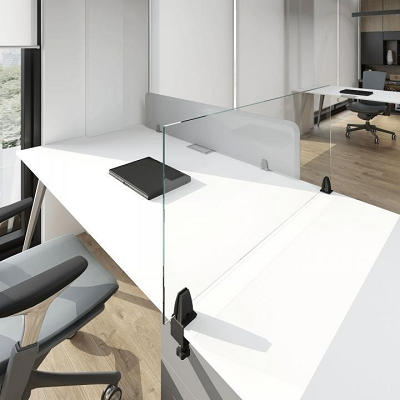 Are there also mobile glass partitions walls?
Whether as a home office partition or as a quickly set up privacy screen in the office: for occasional use we offer mobile glass partitions with adjustable legs or glass clamps. Our hygiene protection for mobile use "Klemstar" uses two glass clips so that you can attach the glass to any table or counter. As a sliding wall they can be placed wherever they are needed.
How are glass seperators cleaned?
Shiny, spotless glass is the hallmark of beautiful glass partitions. Care is needed to achieve this. However, the maintenance effort for glass walls is limited: you don't need more than a cloth and a little water.