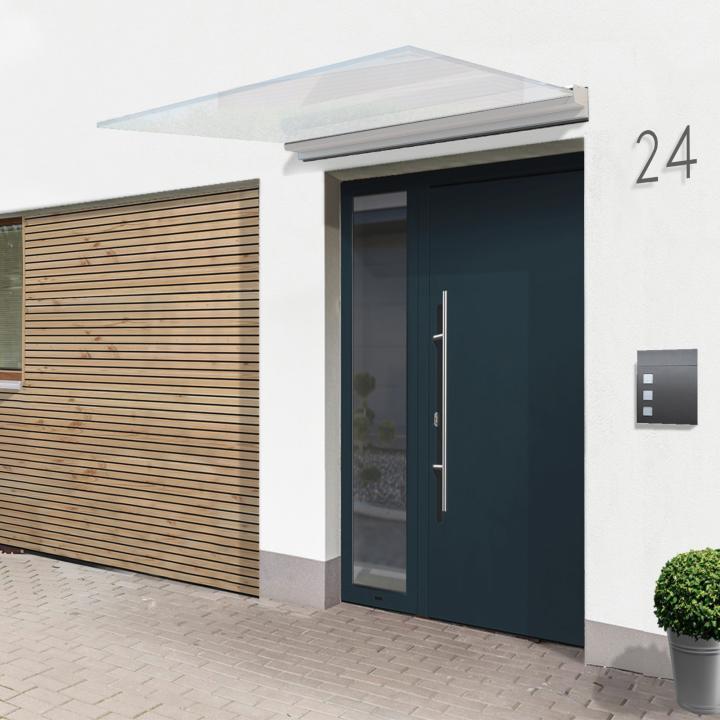 Glass canopy
The G-Fittings glass canopies are self-supporting or versatile with point fixings. The glass canopies are available as complete sets with wall clamp profile, cover and end caps. Find the right solution for every entrance, front door, balcony and terrace.
Glass canopies - versatile areas of application with visual highlights
A canopy made of glass is often not noticeable in everyday life. But it adorns a variety of areas - the entrance to the apartment, the entrance to the office, the entrance to a restaurant, the bus stop or the bicycle shed.
The glass canopy integrates harmoniously into its surroundings. The translucent roof provides enough sunlight and at the same time protects against rain.
The canopy sets specific design accents, serves as an eye-catcher and can thus enhance the entrance of a building. Glass canopies are often used on company buildings to give customers and partners an attractive impression. But even on apartment buildings, the glass roofs enhance the otherwise rather plain brick facades.
Self-supporting or fastened with point brackets
Glass canopies are usually self-supporting or fastened with point brackets. A self-supporting canopy is - as described in the name - attached without additional brackets. The profile of the canopy is designed to support the glass panel independently. This gives the impression that the canopy is "floating" in the air. Cantilever glass canopies are made of safety glass, which not only adds to the aesthetics, but also protects you from rain and snow. In many cases, the glass inclination can also be adjusted and several wall clamp profiles can be mounted in a row so that you can cover and protect a larger area with the canopy.
Canopies fastened with point fasteners are usually fastened with two point fasteners in addition to the wall profile. These also carry the weight of the glass pane and can also decorate and emphasize the house wall. Like the self-supporting glass canopy, the canopy with point brackets also protects against any kind of precipitation. When the sun is shining, only the point holders cast a shadow.
How big should a canopy made of glass be?
The size of the canopy depends on how large the area you want to cover. Do you want to roof only the front door? Then a small canopy made of glass will do. Do you want to cover the mailbox, house number or lamps? Perhaps also the staircase? Then a larger canopy makes sense.
Your glass canopy in the right size
You can install several glass canopies next to each other and thus variably select the length of the area to be covered. In this way, two glass panes or the butt joint can be connected and sealed by a sealing profile.
How high should a glass canopy be installed?
When choosing the height of the glass canopy, make sure that the front door, lamps, but also mailbox and other attachments fit under it.
Glass canopy with integrated rain drain
| | |
| --- | --- |
| A glass canopy with integrated rain drain is suitable for building entrances of all kinds, to allow rainwater to drain away in a controlled manner and to avoid puddles forming right in front of the front door. The rain drain is located in the wall profile of the canopy. The water runs off the side at the end of the glass canopy and the entrance area remains dry. | |