Glass shower cubicles
A glass shower is a popular design element for bathrooms that can create a modern and stylish atmosphere. It consists of a glass panel or a door that creates a separate area for showering. Glass showers often offer more space compared to other shower enclosures, and their transparent look creates an open and inviting ambiance in the bathroom. They are available in a variety of sizes and styles to suit any bathroom and taste.
G-Fittings glass showers are made exclusively of high quality 8mm toughened safety glass (toughened safety glass) and are available in a variety of designs to match your bathroom design. In addition, the glass showers are available in various mounting options.
read more
All glass showers - showers and shower cubicles made of glass
The all-glass showers from G-Fittings consist exclusively of high-quality 8mm single-pane safety glass (ESG) and are available in various designs to adapt to your bathroom design. In addition, the showers are available in various mounting options.
The shower is not only part of the basic equipment of every bathroom, but is now also a place of relaxation and recreation. A glass shower belongs in every modern bathroom. Thanks to its transparency, it offers a feeling of spatial openness and size and is therefore more than just a visual highlight.
What types of showers are there?
Showers made of glass are available according to individual design requirements and satisfy individual spatial requirements. A fundamental distinction must be made between open showers and closed shower cubicles. An open shower - i.e. without a door - is trendy. They are not only an airy highlight but are barrier-free. Enclosed shower stalls keep water and heat in the shower, which is an advantage especially in small bathrooms.
Corner showers
Glass corner showers are particularly space-saving and are the ideal solution in small bathrooms. The 8mm ESG and the cladding in various designs, such as chrome or stainless steel, create a timeless, modern bathroom.
Niche shower
Niche showers are particularly space-saving and are usually installed in a wall / wall assembly. Niche showers can be designed with one or more wings. Depending on the size of the bathroom, there are many design options.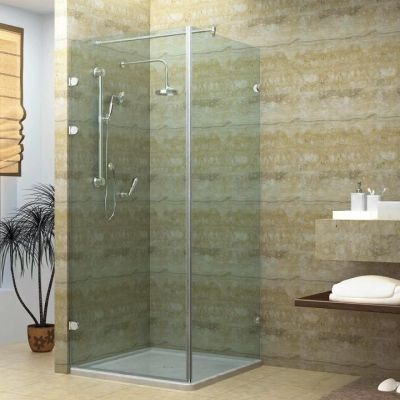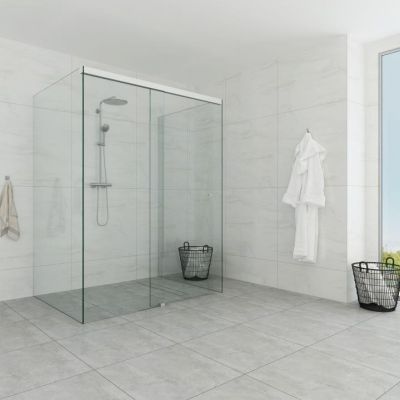 U shape shower
U-shaped showers are particularly suitable for large bathrooms and can be placed almost free-standing. The entrance to the shower can be located either at the front or at the side. The shower door is available as a 1-leaf or 2-leaf door.
Walk in shower
Walk-in showers can be installed in a room corner or freely in the room and impress with their open construction and elegant design. The shower area is barrier-free and no door has to be closed.
Fittings and hinges
The hinges for shower doors are now available in different designs and complete the overall picture of the glass shower. Hardware with a raise and lower mechanism raises the door slightly as it moves to protect the seals and then automatically lowers it again, ensuring a near-perfect seal.
Shower door fittings are available with different functions: as a holder for fixed glass panes, for swing doors, doors that open on one side, folding doors and sliding doors - suitable for almost every installation situation.
Available accessories
Reinforcement bars
Floor guides
Seals
Covers
Hinges for shower
Available finishes
Chrome
Stainless steel
Anthracite black
Silver matt anodized
Shower types
Corner shower
Round shower
Niche shower
Walk-In shower